Welcome to the Division of Student Affairs at Appalachian State University! The Division of Student Affairs is comprised of 15 departments and offers a number of Graduate Assistantship positions. In addition, Student Affairs partners with other offices at the University who benefit from having graduate assistants with a strong commitment and passion for student contact and engagement.
Student Affairs at Appalachian State University integrates both in-class and out-of-class experiences of students. These educational efforts are directed at developing both intellect and character of students. To accomplish this, the University makes available a wide range of educational experience through programs and activities that complement and support the academic experience in the classroom. Although the primary focus of these activities is to advance student learning, they also provide needed services, support, and recreational opportunities to help students meet the challenges of college and to enhance the quality of student life. The Division of Student Affairs has been organized to help accomplish these aspects of the University's mission. Student life is the focus of the programs and activities of the Division.
This website will assist you in understanding the Graduate Assistant (GA) positions that are available in the Division of Student Affairs. Throughout this website, you will see many references to the Graduate Assistant Preview Program (GAPP) which is an on-site, by invitation interview opportunity which may be a part of your application process. If you are unable to make it to GAPP weekend, there are still opportunities available to you; however, it is mandatory that you visit our beautiful campus at some point to receive an assistantship offer.

Developing Tomorrow's Leaders Today
The Graduate Assistant Preview Program (GAPP), held annually in February, is a weekend of interviews where 50+ potential candidates are interviewed for campus assistantships. These potential graduate assistants and students will be interviewing for and potentially receiving different positions within the University ranging from student housing to career advising. GAPP also includes a number of opportunities to socialize with current students, explore the wonderful sights of Boone, and meet some professionals on campus. The weekend is not solely an interview for prospective students, but it is where you have the opportunity to interview Appalachian. We provide plenty of opportunities for you to see how you might fit and feel comfortable within our prestigious university. We hope to see you here!
If you're interested in more information about GAPP you may take a look at our online magazine below:

Contact Us
Rm. 109, B.B. Dougherty Hall
P.O. Box 32117
439 Academy St.
Boone, NC 28608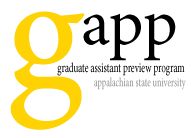 Application opens Aug. 15, 2019
Priority deadline is Dec. 1, 2019
Final Deadline is July 1, 2020

Traci Royster - Chair

GAPP Weekend is
February 16-17, 2020!